Lanceford Fowles, is the twelve year old victim of the 23 Otter St. Catchpole, Vailant Place Incident #1. He lived in Ottery St. Catchpole with his parents and attended Hogwarts School of Witchcraft of Wizardry as a second year. His friends and family say he was a really shy child who would not talk to anyone except his parents. He was very innocent and carried a bear for protection from evil spritis, as he said he jinxed it.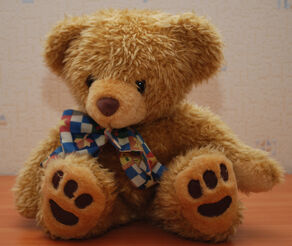 Jinxed Bear
Edit
Fowle first purchased the teddy bear in the Junk Shop in Diagon Alley. When his parents told us on what the bear meant to Fowles they said he would say he knew the bear was, once in history, belonging to a good wizard. They said when they got home he ran up to his room and they would usually hear thumping, just believing Fowles was practicing his magic. When he came down he seemed more confident, hugging the bear as if he wanted to murder it.
Ad blocker interference detected!
Wikia is a free-to-use site that makes money from advertising. We have a modified experience for viewers using ad blockers

Wikia is not accessible if you've made further modifications. Remove the custom ad blocker rule(s) and the page will load as expected.